Christophe Nambotain FRANS ENDURO KAMPIOEN 
GasGas wint in totaal vijf podiumposities in Estland
Het GasGas Factory Team krijgt drie podiumplaatsen op de tweede dag van de GP van Estland – Nambotin en McCanney, tweede en derde, in E3 en Basset, derde in E1, toegevoegd aan de twee podiumplaatsen van gisteren – McCanney, tweede in E3 en Basset, derde in E1 .
Christophe Nambotin eindigde de Estonia GP op de tweede plaats in E3 en keerde terug naar het podium nadat hij gisteren op de vierde plaats eindigde. Zijn teamgenoot in het GasGas Factory Team, Danny McCanney, die gisteren een spectaculaire comeback leidde om als tweede te eindigen, heeft een derde positie toegevoegd. Cristophe Nambotin eindigde de Estonia GP op de tweede positie in E3 en keerde terug naar het podium nadat hij als vierde eindigde gisteren. Zijn teamgenoot in het GasGas Factory Team, Danny McCanney, die gisteren een spectaculaire comeback leidde om als tweede te eindigen, heeft een derde positie toegevoegd.
In E1 herhaalt Antoine Basset de derde plaats die hij gisteren behaalde en kreeg hij twee podiumplaatsen tijdens zijn rit door de GP van Estland. Eemil Pohjola bereikte gisteren een welverdiende vijfde plaats, maar vandaag moest hij vanwege een elektrisch probleem met pensioen.
Met deze resultaten heeft het GasGas Factory Team vijf podiumplaatsen toegevoegd in de vierde ronde van het Wereldkampioenschap Enduro. Een zeer zware en veeleisende Grand Prix voor zowel rijders als hun fietsen, waardoor enkele van de favoriete rijders met pensioen gingen.
Het World Enduro Championship keert terug op 29 en 30 juni met de Trentino GP in Pietramurata, Italië.
CHRISTOPHE NAMBOTIN:
"Gisteren eindigde ik niet te dicht bij de topruiters, maar vandaag merkte ik dat ik vanaf het begin veel beter was. Maar in de derde ronde begon ik me lichamelijk slecht te voelen, hoewel ik in staat was om te eindigen en tweede te worden. het beste weekend voor mij, maar ik ben tevreden met het podium en we zullen doorgaan met trainen om te verbeteren in de komende races. "
DANNY MCCANNEY:
"Gisteren begon het erg slecht met een valpartij bij de eerste kruisproef, maar ik bleef pushen en slaagde erin om als tweede te finishen. Vandaag begon ik goed, met een kleine val in het extreme en ik vocht de rest van de dag. podiumplaatsen in de GP van Estland en nu moeten we ons goed voorbereiden op de GP van Trentino. "
ANTOINE BASSET:
"Het was een goed weekend met twee podiumplaatsen. Gisteren was niet mijn beste dag, maar het lukte me om als derde te finishen .Tegenwoordig ging ik, ondanks een val en verlies van wat tijd, terug naar de derde stap, ik gaf alles wat ik had. In Italië zullen we blijven geven wat nodig is! "
EEMIL POHJOLA:
"Gisteren was een goede dag, ondanks twee valpartijen voelde ik me goed op de motor en eindigde ik op de vijfde plaats. Vandaag was een beetje moeilijker en ik moest met pensioen in de tweede fase." Races zijn zo en we zullen alles geven om de best mogelijk resultaat in Italië. "
VACLAV KOVAR : Een stap hoger – het succes van Rusland volgde in het verenigd koninkrijk en weer een ontmoeting met Anderson en Lusbo op het podium, gewoon in verschillende volgorde.
Omdat onze box met motoren op maandag voor het weekend uit Rusland is ontvangen, was er niet zoveel tijd voor voorbereiding en zijn we op donderdag onze weg naar uk begonnen.
Materley basin een van de beste tracks in de wereld en een van mijn favoriete.
In time praktijk heb ik 2. plaats bereikt met 0,007 gap voor het eerst, rijders achter met kleine gap ook
Begin 1 e heat was rond 6 pos een traditioneel begonnen van achteren. Sprong in de finish op 2 e plaats, 1 seconde achter Anderson
De tweede heat was ingewikkelder. Behoorlijk water en glad spoor, niet goed begin – rond de 10 e plaats. De eerste paar ronden werden zorgvuldig bereden, andero lusbo op de top maakte grote gap aan de voorkant. Hij reed meestal weer met anderson, passeerde hem voor de tijd, maar hij reageerde onmiddellijk terug, zo klaar 3 rd.
In totaal graven 2 e plaats een verplaatst naar 5 e in emx300 – kampioenschap classificatie
Volgende race af plaats in loket dus hoop voor top resultaat in binnenlands land
| | |
| --- | --- |
| | ENDURO GP – FINN GP – 03/18/2018 |

| | | |
| --- | --- | --- |
| | Pohjola and GasGas victorious in E1 in the Enduro GP of Finland | |
| | | |
| --- | --- | --- |
| | GasGas' young Finnish rider who retired yesterday when he was absolute leader, won today in E1 in the second day of the Finn GP. Christophe Nambotin and Danny McCanney, in E3, and Antoine Basset, in E1, added some valuable points in a special opening test in the World Championship dominated by the Scandinavian riders. | |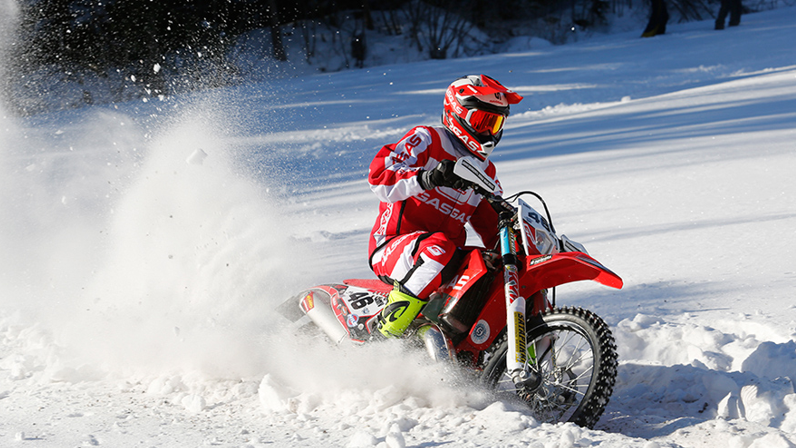 The Finnish 'Päitsi', an event with over ninety years of history in this Nordic country, has given a welcome for the second year running to the 'white hell' of Lake Päijänne. This was an extremely tough event marked by the freezing temperatures and the great banks of snow in the stages. The young rider Eemil Pohjola rode brilliantly on his GasGas bike, taking it to the very top of the podium on the second day in the Enduro World Championship.

The Finnish rider, a commitment to the future by GasGas – as in their day were his fellow countrymen Petteri Silvan and Petri Pohjamo, World Champions with GasGas – has been one of the great stars of the GP of Finland. Pohjola led the general in the first day until the thirteenth special, when a setback separated him from a victory he had within his grasp. On the second day, the GasGas rider demonstrated his enormous potential by claiming the victory in his category and second place in EnduroGP on his GasGas 250 EC.

Christophe Nambotin and Danny McCanney debuted in the demanding GP of Finland riding with the GasGas colours in the World Championship. They achieved a seventh and an eighth place after a strenuous first day of more than 500 kilometres and 12 hours of competition, after riding 16 specials – two of them at night. On the second day of competition, McCanney climbed to fifth place and Nambotin repeated in seventh position. With this result, both added valuable points in the fight for the World Championship, in the most unique and demanding test of the championship, usually dominated by the great Scandinavian specialists.

In E1, Antoine Basset completed the Finnish event by obtaining two seventh positions before the World Championship heads to more southern lands. Santiago de Compostela is to host the second round of the EnduroGP World Championship on 27, 28 and 29 April, the Spanish GP.
"As we already knew we would, we encountered difficult conditions in this first World Championship race. Apart from Eemil [Pohjola], who is a specialist, our riders are not used to racing on ice and snow and we have come up against many situations that we were not adapted to. For that reason, we have fulfilled our main objective: that the four motorcycles finished the event. We got a win in E1 and we fought to win the event on both days. All the riders have scored points, which in itself was complicated, and we have kept our options open to fight for the title at the end of the season.

The commitment made by the GasGas Team with a young rider like Eemil has paid off and we are very proud of his magnificent race. He is a good specialist in this field, has become the revelation of the Grand Prix and put up a great fight throughout the weekend for the absolute victory.

Now we have to continue working for the next race, which will be in Spain, where we will attack in a terrain better suited to our riders."
| | | | | |
| --- | --- | --- | --- | --- |
| |   | | "It's been a very hard weekend. The result is not too good for the championship, but it was a very difficult race, both because of the conditions we encountered and because of the organization, as it was the first time we have competed here. Despite the complications of the terrain, the bike worked very well but I could not ride comfortably on the snow. Next month we will compete in Spain and I am already looking forward to riding there." | |
| | | | | |
| --- | --- | --- | --- | --- |
| | "We had to give everything we had in the snow in Finland. We did not find a correct set-up and yesterday I could not feel comfortable riding in these conditions. Last night we made some changes in the configuration of the bike and we noticed a great improvement. As for the championship, I cannot complain because despite the difficulties, we have added some good points and today I was able to ride quite well. I'm happy with the result we've obtained." | |   | |
| | | | | |
| --- | --- | --- | --- | --- |
| |   | | "It was a very difficult race, especially since I am not used to this kind of event. Yesterday we had a lot of snow and in the specials there were very large ruts. It was a very long day, with more than twelve and a half hours of riding, and it was my first time. I did not do to badly considering I'm not Finnish. Today went a little better. I had some doubts about the shock absorber halfway through the day, but conditions were more similar to the usual ones." | |
| | | | | |
| --- | --- | --- | --- | --- |
| | "On Saturday I had a problem in the 13th special while leading and very close to victory. Today was a good day, I have given 100% and everything went very well. I am very happy with my first victory in the E1 World Championship and I want to thank GasGas for this opportunity and especially to Jani for making it possible. We're going to train hard to prepare for the next race in Spain." | |   | |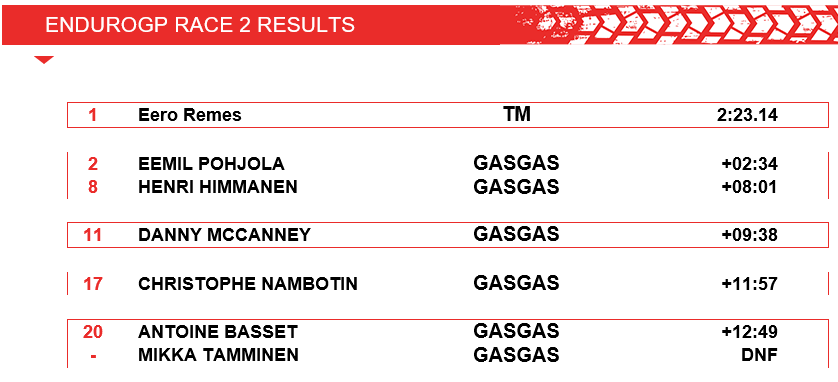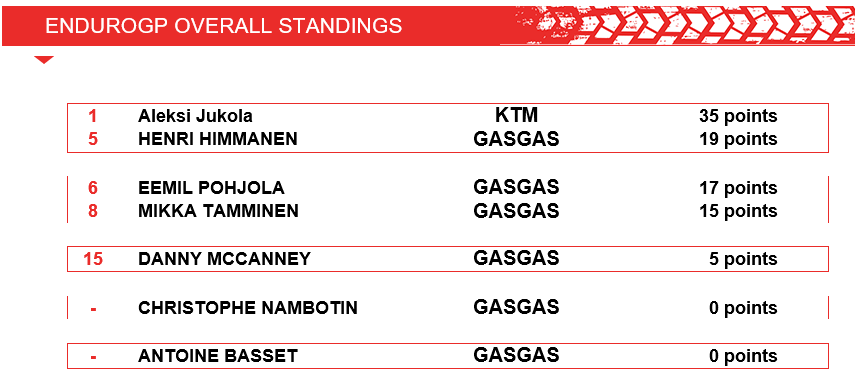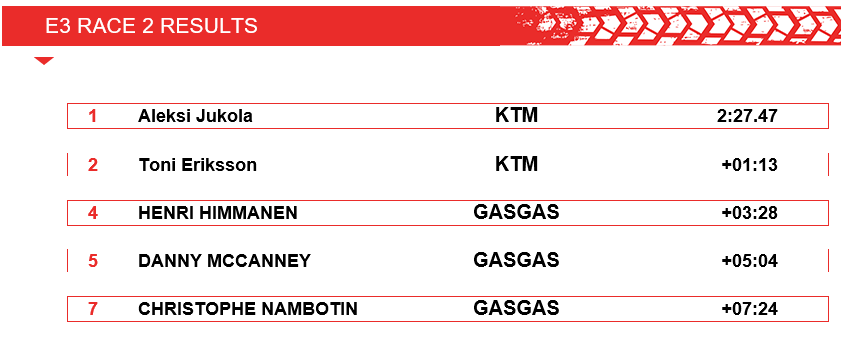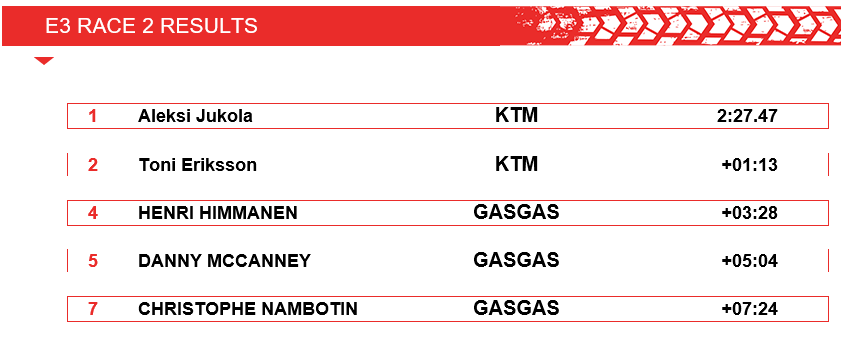 Kom jij de volledig nieuw opgebouwde GasGas Ec 250 en 300 testen 5 november in lelystad ??
Laatste Nieuwe GasGas EC 300 Racing E 2017 Modellen tegen hoge kortingen bij Overveld Parts.
EC 300 2017
Rijklaar met kenteken € 8250.-
Rijklaar zonder kenteken € 7250.-
Nieuw binnen de GasGas EC 300 E 2018 modellen .
EC 250 2018
Prijs rijklaar met kenteken € 9150.-
Prijs rijklaar zonder kenteken € 8150.-
EC 300 2018
Prijs rijklaar met kenteken € 9250.-
Prijs rijklaar zonder kenteken € 8250.-

Eerste GASGAS EC 300 2018 in Nederland tevens onze nieuwe demo motor
Deze nieuwe motor is bedoeld voor het testrijden in Nederland op locatie of bij ons in de buurt

Introductie van de nieuwe GasGas Enduro 2018 met Toine van Dijk.
Toine mocht er voor Noppennieuws als één van de eerste aan proeven.
"Gevoel is meteen goed, zeer makkelijk op het gas. De motor breekt niet weg
Wat opvalt: Hij stuurt heel goed in."
"Het vermogen onderin is heel goed, Gaat niet uit bij lage toeren. Krijgt men niet stil geremd"
Waren enkele van de lovende woorden na het testrijden in een regenachtige ochtend en een stralend zonnige namiddag op het testcircuit in het Catalaanse Forallac,
Marko Barthel van Enduro.de vult hem aan:
Viel stabieler, und nicht so nerveus wie die andere aktuelle auf die markt. .
Ich musste mich die Powerkurve ansehen, aber Die starke ist von fahrgefuhl sicher nicht weniger.
Die Starke ist in untere und obere bereich ist viel mehr wie die vorgänger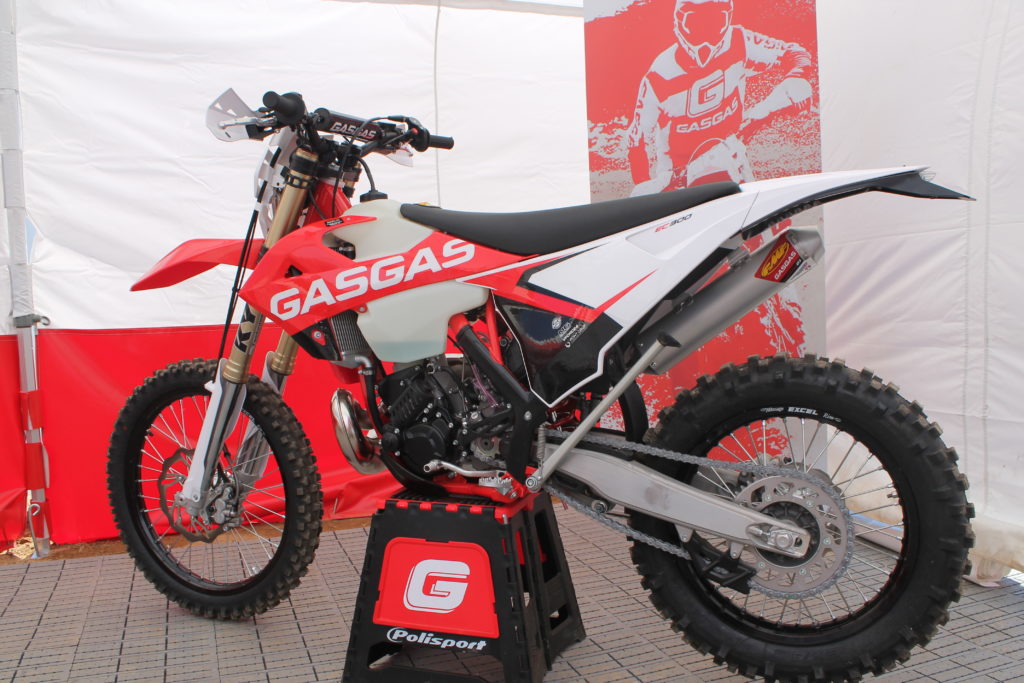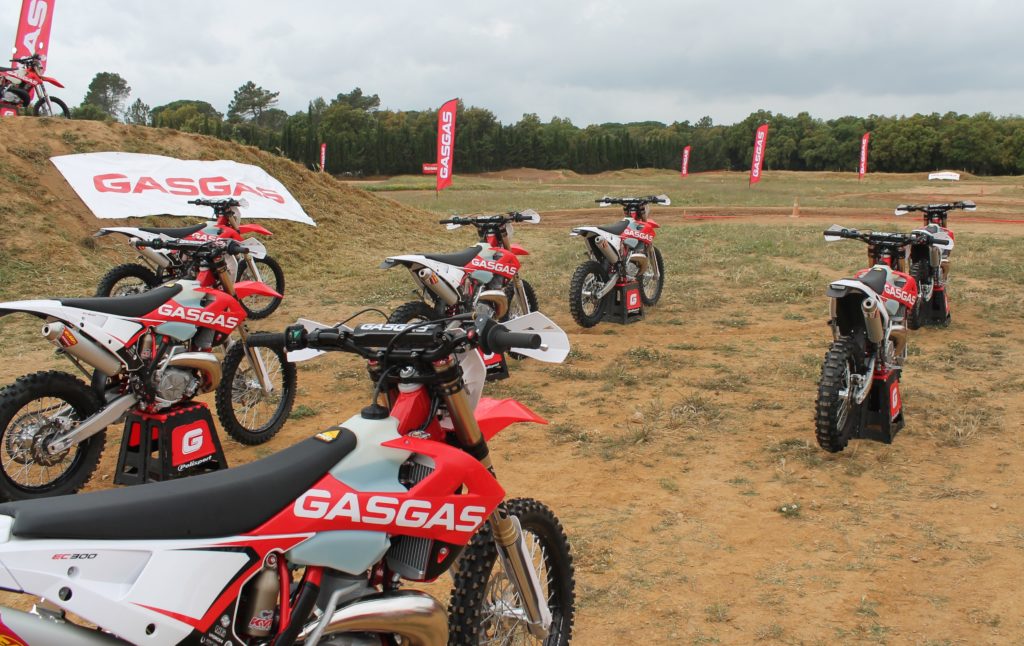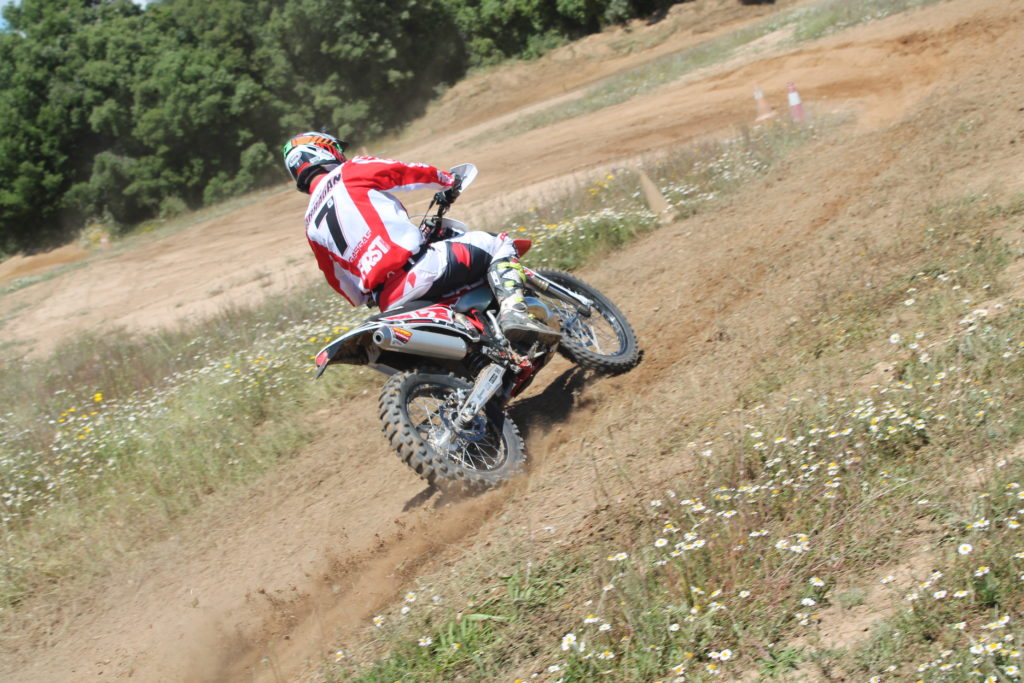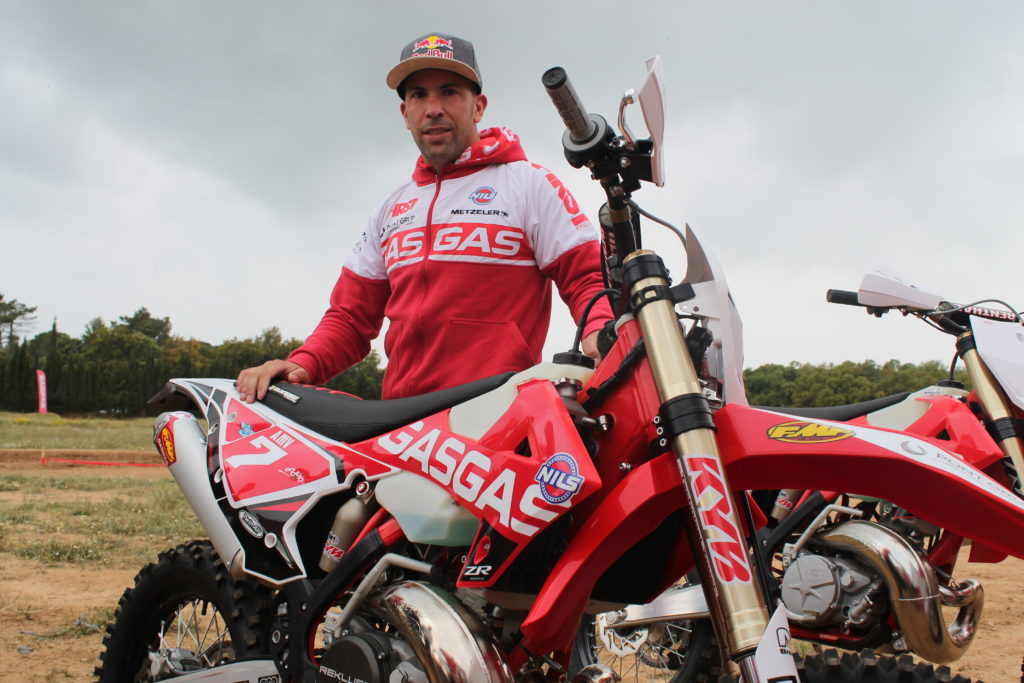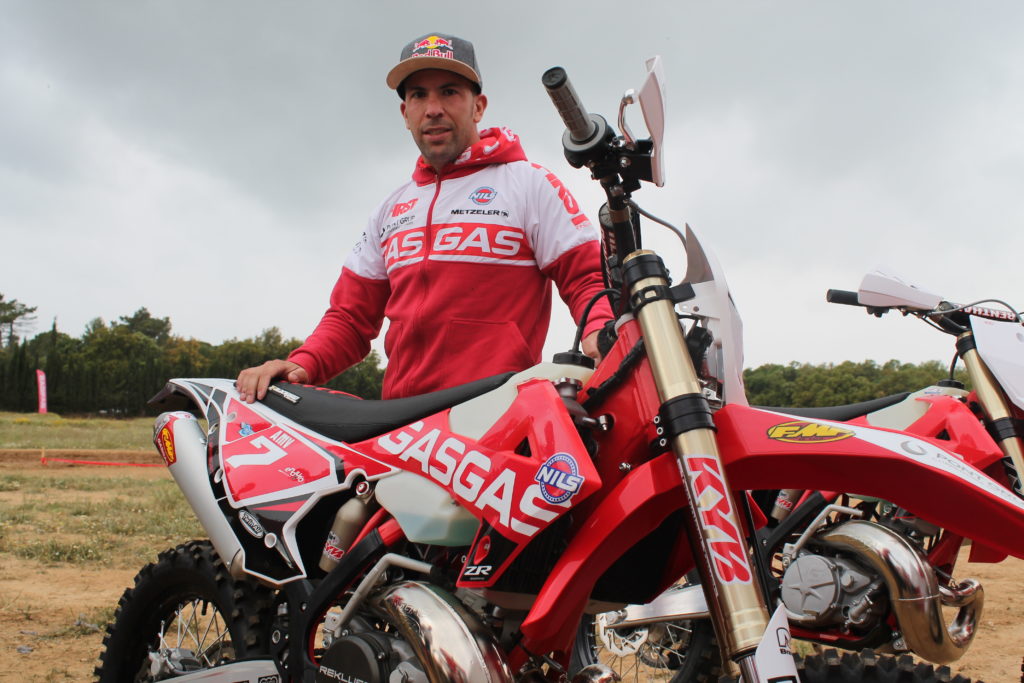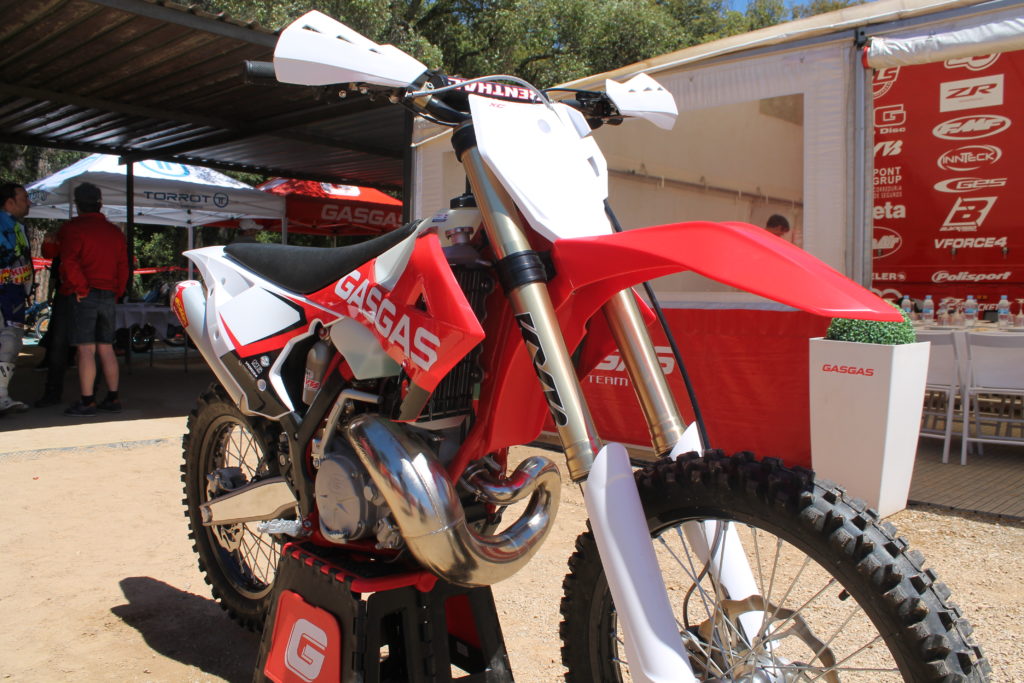 BARAGAN SNELSTE TIJD OVERALL


Leatt producten uit voorraad leverbaar




The GP of Euskadi puts the brakes on the Gas Factory Pons Team's winning streak in the World Enduro Championship
The Gas Gas Factory Team finish up GP of Euskadi held in Gordexola with a sixth and ninth place for Diogo Ventura and a forced exit for Jonathan Barragán, after suffering a serious fall on Sunday. The young Portuguese rider keeps his third position in the Junior World Championship, while the rider from Madrid will need a few days of R&R before returning to his preparation for the Italian GP, the next date on the GP World Championship calendar.
It's been a weekend full of mixed feelings for the Gas Gas Factory Pons Team riders in the Enduro GP of Euskadi. At the last two events of the World Championship –The Finnish and Swedish GPs – both Jonathan Barragán as well as Diogo Ventura, had demonstrated that they were on a clear winning streak with good results in their respective categories. With the young Portuguese rider in the third position of the Junior Category and the Spanish rider fighting for a place in the top five of the maximum category. However, the truth of the matter is that in the sixth event of the World Championship held in Gordexola, this upwards tendency has been somewhat thwarted.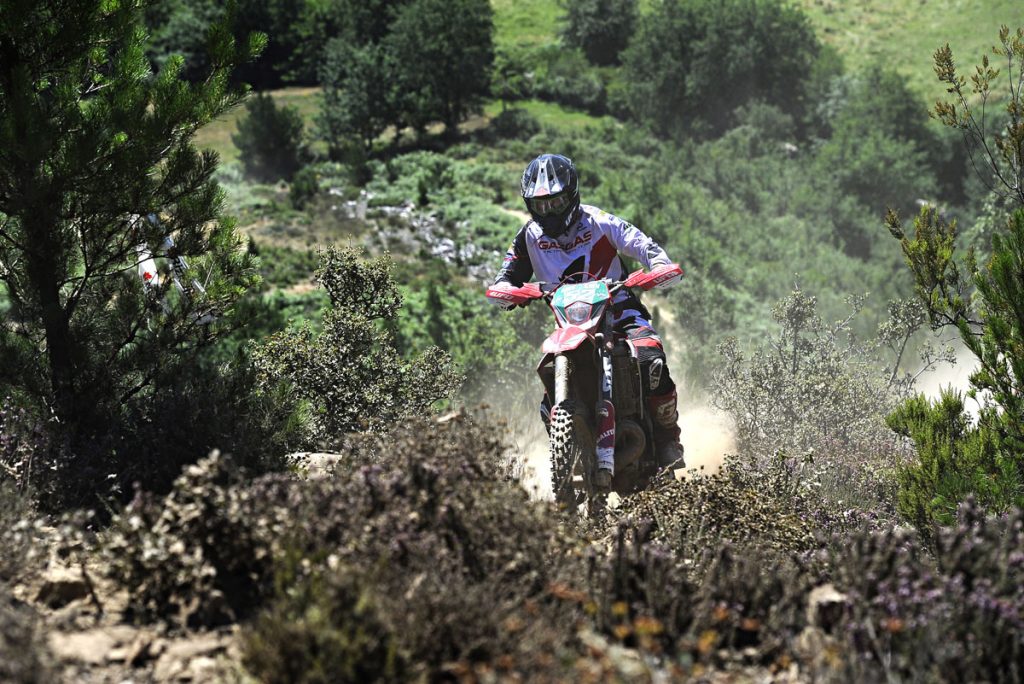 With the motivation that comes with the opportunity of riding on home turf, the riders of the Gas Gas Factory Pons Team travelled to the north of Spain with a spirit of optimism facing the challenge of an event with two very different days. The first day, was once again, characterised by rain and mud, and on the second day, out came the sun together with suffocating heat and humidity. This was an event with a tough track for the Gas Gas riders and mechanics making it difficult for the riders to find their form.
On Saturday, Jonathan Barragán was fighting amongst the best five times in the maximum category until a loss of power towards the end of the race made it only common sense to reduce the pace. This meant that at the end of the day he was in ninth position in the World Championship. However, this time meant that Barragán was able to climb onto the third step of the podium of the Spanish Enduro Championship that is held together with the World Championship and where only the first two laps counted.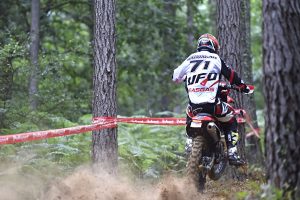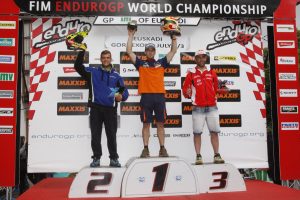 Once the problem had been sorted out with record breaking speed, before entering his Gas Gas EC 300 Racing into the closed park, the next day Jonathan Barragán started off his Sunday's racing hoping to get some good times that would put him up with the leaders. Unfortunately, a fall and a subsequent blow to the head against a tree during the first run on the enduro test, wiped out all the hopes of the rider from Madrid. Stunned and dizzy from the accident he had no choice but to retire from what was the sixth event of the World Championship and the fifth event of the National. This accident, with only one more event to finish the Spanish Championship, conditions the third place which up to now was held by the Gas Gas rider.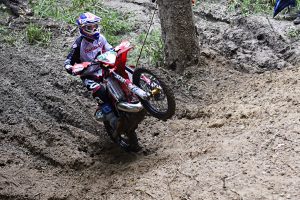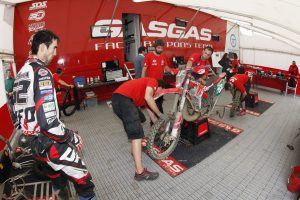 Neither was a sixth position on Saturday in Gordexola a source of satisfaction for Diogo Ventura in his fight for the Junior World Championship. Despite his efforts during another day of rain and mud in the World Championship, the young Portuguese rider never found the pace needed to get a podium position. This was precisely one of the objectives set before this GP. The following day, the Gas Gas rider paid dearly for his mistakes with a tardy ninth position. Although this helps him keep his third position in the World Championship with only two events to go – the Italian and French GPs – it makes a second position in the classification even further out of reach.
The next event in the World Championship is to be held in two weeks' time in Fabiano, home of the Italian GP on 16th and 17th July. Meanwhile, the Spanish Enduro Championship starts its summer break and will continue with the sixth and final event at the el Enduro Santiago de Compostela, the weekend of 17th and 18thSeptember.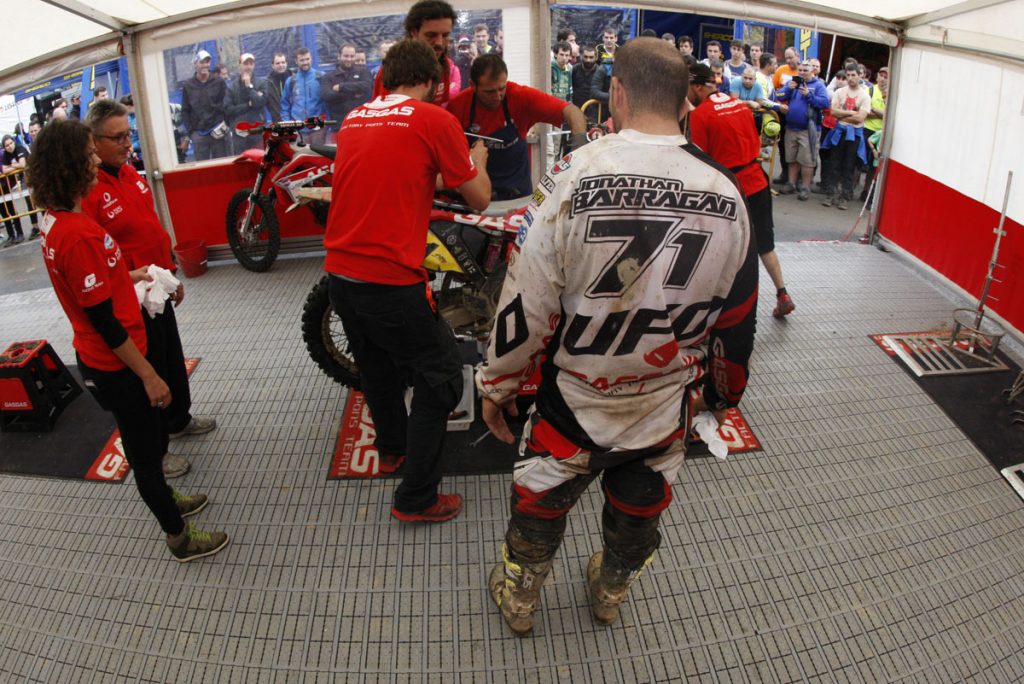 Diogo Ventura: "This has been a very difficult weekend for me. In the last event of the World Championship in Finland, things didn't go to well. But in Sweden we recovered a third and fifth position. The truth was that we arrived back in Spain with a bit more confidence. We thought that everything would be better here, but it has turned out just the other way round. We didn't get the times we wanted and to be honest I don't really know what went wrong. We still have two more races and we have to keep working to get a podium position in the junior category. There are always good and bad moments during the season and now we have to do our best in the next events. I came to this race with the idea of getting back my second position but my rivals were stronger and the classification has just got a bit more complicated. The Championship is a long one and there are still two events left. At the end of the day this is enduro and in a race, anything can happen. Our aim now is to get back on the podium."
Jonathan Barragán: "On the first day I was fighting to get into the first five positions in my category. However towards the end of the race after a really tough day, I noticed the bike wasn't running too well, so I had to slow down the pace to nurse it through to the end of the day and reach the paddock. We fixed the problem as a team and the next day I set off with great motivation to do a good job. But I hit a tree in the race and it was KO for me. Stunned. I had no other choice but to retire. Luckily I wasn't badly hurt and I didn't break anything. It was shame not being able to get points on the second day of the National Championship as there is only one more race and we are third. This means that this year we have fewer options to fight for the title. Now we have two races left in the World Championship; the Italian GP, and in two weeks' time the French GP, after the summer. So, after a few days' rest we'll get back to training again. We aim to make the best of the events we have left."
ENDURO WORLD CHAMPIONSHIOP RESULTS